Fresh faces bring fresh perspectives on difficult waste streams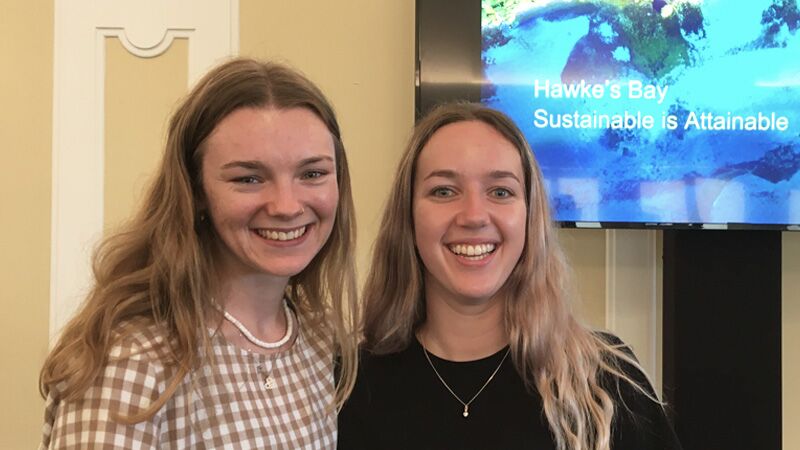 We recently hosted University of Canterbury chemical and process engineering students Anna Van Der Hout and Kezia Alexander for 10 weeks while they got stuck into some of the region's toughest waste problems as part of the Sustainable is Attainable project.
This was the second year we hosted students working on the project, investigating solutions for difficult waste streams like plastic pallet strapping, label backing and byproducts from corn and oats.
Their work has shown there are significant opportunities to divert waste and create circular economy solutions.
Difficult waste streams are a big area to tackle, where did you begin?
We started off with looking at the data from last year's interns which led us to work on two packaging waste streams – pallet strapping and label backing. We also had a few organic waste streams come along, so it was great to get to investigate those too.
We started off looking at ways we could improve the 2021-2022 data and how we collect data going forward so it's more meaningful and specific. Data is really important to identify which waste streams which have the volumes that make them worth working on.
Tells us about the pallet strapping work
Pallet strapping is plastic or steel banding used to strap big loads. We focused on the plastic, which is made of PET or PP plastic and is essentially clean, recyclable plastic going to landfill.
It's a big waste stream. For example, just one Hawke's Bay Business sends three container loads of plastic strapping to landfill each month.
The main issues are its awkward shape, its high volume to weigh ratio and it isn't easy to identify which plastic type the strapping is. When it's loose, it's very expensive to ship and its rigid mechanical structure makes it difficult to chop up.
We looked at things like chipping methods and baling as well as different separation methods. We also looked at alternatives, like paper strapping for lighter loads and Velcro strapping – which is cost effective for internal or inter-site movements within the same business.
From all this we came up with a process flow for the different options of collecting, chipping, transporting and recycling. There is no straight forward answer but it's definitely something which we think is worth progressing.
This isn't a problem for just the horticulture industry in Hawke's Bay so there's definitely an opportunity for a national scheme.
Tell us about the label backing
Label backing is the liner which stickers come off. It sometimes contains PFAS and micro plastic. It's mostly glassine or PET and some have a silcone coating which means it can't be recycled.
For this project we looked at fruit label backing, which is glassine (a type of paper) that comes from largely one supplier. It's shredded after the stickers are removed so there isn't a risk of PET contamination. Our recommendation was that it could be fed to worms.
A trial has already been held with commercial worm farm My Noke, which is moving to Hawke's Bay, and label manufacturer Jenkins Freshpac. This project is about to enter the implementation phase, which is really exciting.
And the organic waste streams?
We looked at the byproducts from corn (stover) and oats processing to find high-value outcomes. We also looked at ways to extract starch from other waste streams.
For the starch work we looked at options like oats, potato byproducts, and kūmara and pumpkin skins. There are some clear next steps like further research, data collection, lab-scale trials, and costing, and it's definitely worth pursing as there is value in starch.
The stover research showed it could be used for bioplastic, filters, and biochar. Our work didn't find an obvious high-value solution, but we would recommend more research.
We also looked at what's known as oat "cake" a byproduct from making oat milk. At the moment it's going to stock feed, but it has value from the protein and fibre.
We have received a lot of positive feedback on the potential of oat cakes and found a number of high-value outflows like plant-based protein, for baking, and in biodigestion. It's definitely something worth pursing further, and the next step being taken is working out the nutrient profile.
Illuminating the issues
Data organisation
Data analysis
Evaluate and prioritise projects
Evaluate outflows
Map possible process flows
Make recommendations
Design data collection for next phase
Validating circular economy applications
Pallet strapping
Fruit label backing
Corn Stover
Starch from byproducts
Oat milk byproduct exploration
How did you enjoy your time working 3R and working on the project?
It's been really good. We've been exposed to lots of different things and people, and made good connections.
It's been really beneficial for both of us and eye-opening to look at a very wide range of industries and waste streams which could have high value, have circular economy solutions. We also really enjoyed learning from 3R how to approach the different projects and just seeing how the office functions day-to-day too.
How have you found this experience has related to your studies?
The site visits have been directly applicable to our chemical and process engineering studies. But also sitting down and talking to people and being able to ask them questions is a soft skill you can only really learn out of the classroom.
This is our honours year so we're going to have to be doing research, so having that experience doing it here for this project has been good experience too.
Where to now?
We're heading back to Christchurch to do our fourth and final year. We're also both doing global humanitarian engineering, so we'll hopefully be heading off later this year to Peru to help build and install a wind turbine for a remote community.