New service with twice the chemical kick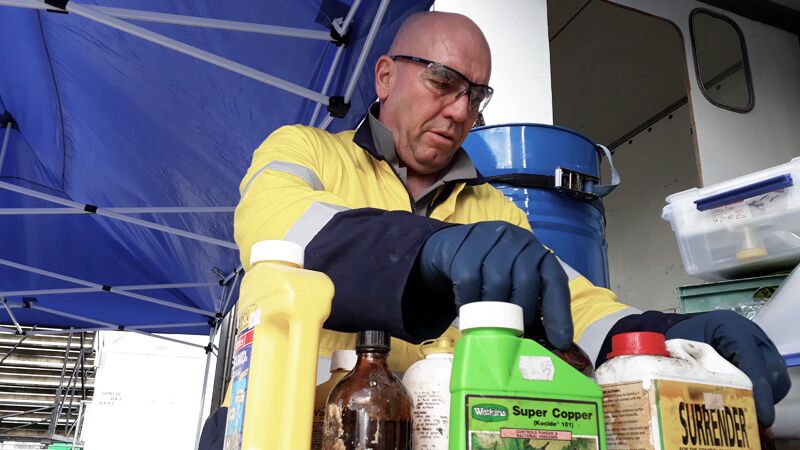 A new chemical collection service has not only seen Palmerston North residents safely dispose of over 800kg of unwanted chemicals for free, but also helped educate them around hazardous waste.
The MyHazWaste service, run by chemical collection experts 3R Group, held its first event in Palmerston North on June 16. The council-funded event gave residents the chance to safely dispose of household, garden, garage and pool chemicals for free.
3R Group ChemCollect general manager Jason Richards said the event was designed to improve upon traditional hazmobile events. "We used an evolved collection model which allows for a controlled collection methodology, accurate data collection and increased public education."
This ensured only substances which have no disposal pathways were collected, he said. "As a result, council can utilize their budgets more effectively so that they don't pay for the collection and disposal of things that there are already solutions for."
Residents wanting to dispose of their unwanted chemicals used the MyHazWaste website to register what they were going to bring. They were then allocated time slots, ensuring traffic flow and risk could be well managed.
The website doubled as an educational tool promoting where to take substances which would not be accepted on the day. "Our team and the Palmerston North City Council staff and volunteers, who helped on the day, also talked to residents who came along about appropriate disposal options," Jason said.
"The MyHazWaste event was an excellent opportunity for residents to safely dispose of their household hazardous waste. Utilising a pre-booking system and collaborating with professionals from 3R meant the day was managed safely and efficiently. The collection of 800kg of hazardous chemicals which might otherwise have found their way into our waterways is certainly a great result for the city", says Palmerston North City Council City Networks General Manager Ray Swadel.
Jason said they received a wide range of substances, ranging from poisons like formaldehyde to pesticides, acids and solvents.
"We are really pleased with how the day went. The Palmerston North City Council staff and volunteers did a great job helping make sure everything ran smoothly."
The collection saw some 80 bookings made, with amounts of chemicals handed in ranging from one or two small bottles to one booking of some 64 litres.
"This model allows councils to hold targeted events for hazardous materials within set budgets and thereby reduce the risk of mass collections following natural disasters as happened in Kaikoura," Jason says.
3R also runs the ChemCollect service and the Great DDT Muster, a programme to safely collect and dispose of POPs (persistent organic pollutants) around New Zealand.