Chemical collection service helps add to Million Metres planting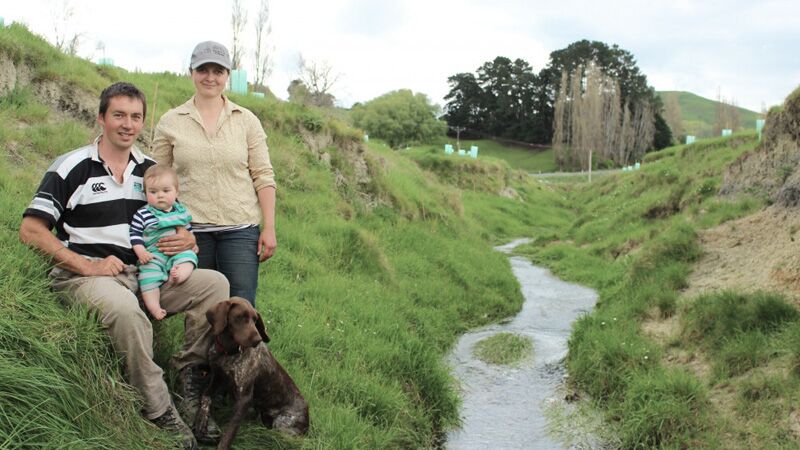 Sam and Cookie Clark are working to restore the creek which runs through their Central Hawke's Bay property, by fencing and planting native trees along its banks.
Six months worth of work by 3R Group's ChemCollect service has not only meant some 8.8 tonnes of chemicals have been properly collected and disposed of, but a Central Hawke's Bay stream restoration project has benefited too.
3R has committed to donate $200 for every tonne of material collected by ChemCollect to a Million Metres Streams project, every six months. The third donation to date saw over $1700 go to a project aimed at restoring 1km of a tributary of the Porangahau river – paying for some 60 metres of planting.
The project is being run by landowners, the Clark's, a fifth generation family farming 'Airlie' at Wanstead. Sam Clark and his wife Cookie recently took over the 450ha farm and have been working hard to restore the creek running through their property by erecting fences and doing riparian planting.
"With your support we will plant 1,000 metres of the creek with 4,700 native plants and trees in 2019," says the Clarks. "This creek flows into the Porangahau River. The River has issues with high sediment (suspended soil). Thus, the Porangahau catchment (all the streams and creeks that flow into the river) are a high priority for restoration for the Hawke's Bay Regional Council."
3R Group National Programme Manager – Chemicals, Jason Richards, says he is really pleased the donation was able to help a Hawke's Bay project, considering the company has its headquarters in the region. "We have sites in Christchurch and Auckland and have been able to donate to projects in those areas, so it was good to see a Hawke's bay project come up which we could donate to," he says.
ChemCollect is a comprehensive chemical collection and disposal service for a wide range of expired, banned, obsolete or unwanted chemicals.