Building a circular economy
By Kiri Speirs on October 17th, 2017 in
Events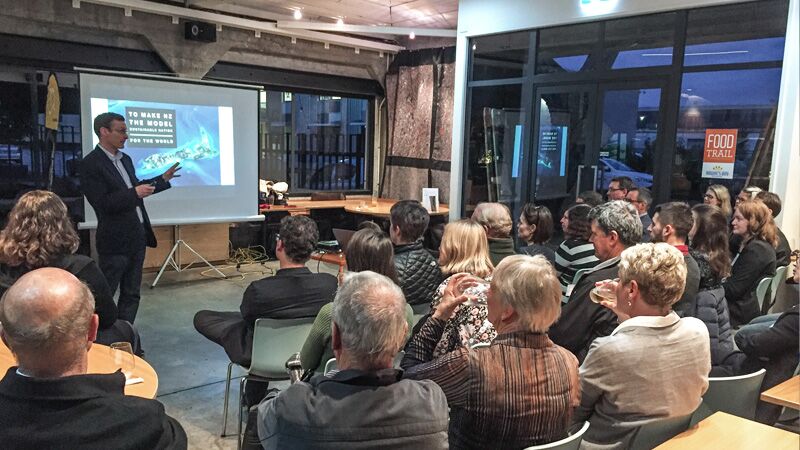 Featured speaker at SBN / 3R Business Connector event in September.
In order to move forward we need to start going around in circles.
Such is the thinking behind a circular economy; one that doesn't follow the linear process of taking resources, making products and then throwing them away, but rather creating a circular process where products are created and then stay in the system to be reused, recycled or repurposed. Nothing is wasted.
The venue of our third Sustainable Business Network (SBN) Regional Business Connector event, FG Smiths, is the perfect example of this theory in practice. The building in which the popular eatery is housed was remodelled with circular economy building practices firmly at the forefront of the design. PMA Architects showcased 'adaptive reuse' through their work on the building, reusing materials from the existing structure as well as from others in the area.
With the building industry responsible for around 20-30% of all landfill and 80% of all clean fill, this kind of approach needs to be more widely adopted.
Key speaker James Griffin of the SBN admits the current drive for building work to be done as quickly as possible doesn't lend itself to circular economy thinking. "But I like to think builders and architects are slowly coming on board. We need more drivers and more champions for it."
To support the change, the SBN has created the Circular Economy Model Office Guide (CEMO) which has been designed to encourage and guide building practices where architects and builders reuse or repurpose existing materials when possible, working to divert waste from landfill and encouraging suppliers to take responsibility for the new materials used.
Put simply, the aim is to design waste out of commercial building practices. "CEMO is all about embedding circular economy thinking in what is a very linear economy model in construction," James says. "FG Smith is a fantastic example."
SBN is a membership-based organisation in New Zealand which helps businesses increase their sustainability performance, with the goal of creating a model sustainable nation. The CEMO Guide is one example of the work they do to support these aims. It can be downloaded for free from the SBN website.