Annual beach clean-up at Haumoana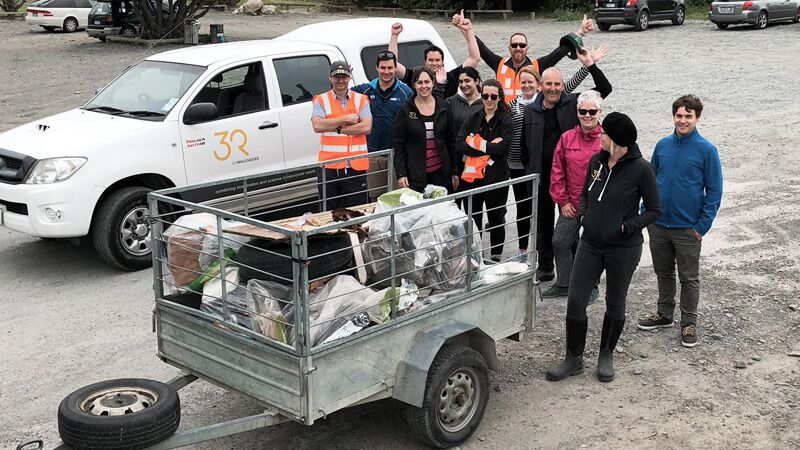 What would you expect to find on a beach? Sand, rocks, some seaweed and the smell of fresh, salty air?
Sadly this isn't always the case with beaches around New Zealand harbouring all manner of rubbish. 3R did our bit to help improve the situation by holding our annual beach clean-up on October 5.
This year the stretch of coast from the mouth of the Tukituki river, near Haumoana, south to the end of the township was chosen.
Four groups – made up of staff as well as some of our local suppliers and stakeholders – took to the beach armed with clipboards, plastic bags, gloves and a willingness to get their hands dirty.
A little over an hour later and around 200kg of rubbish was collected and recorded on Sustainable Coastlines audit sheets. Items ranged from screws, food wrappers and old metal to wood, tins, plastic, pipes and the obligatory tire or two.
After the hard graft the clean-up crew was rewarded with a few drinks and snacks at the fine Clive Pub – a big thanks to the guys from ANZ who shouted half the tab.
Another reward was knowing that the growing movement to ban or charge for plastic bags, including that announced by Countdown the day before the clean up, should mean that fragments of plastic bags might start to feature a little less in our clean-ups.
The clean-up forms part of 3R's Good Friday Leave which allows staff to take time off work for community projects or personal development. We'd also like to say a big thanks to the staff from our local supplies and stakeholders who also took the time to help out, including Hastings District Council Waste Minimisation Team, Wilsigns, ANZ Hastings, Fresh Perspective People and Hawke's Bay Technology.