Where sustainability and social enterprise meet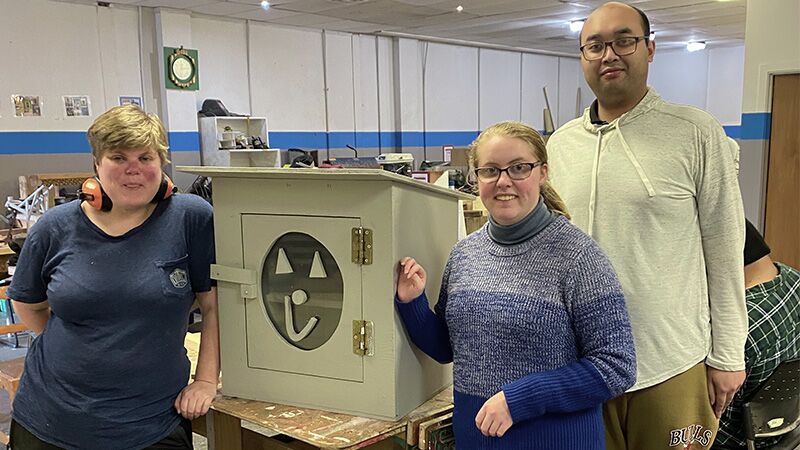 What do you think recycled paint, expired child car seats and an Auckland social enterprise have in common? There is some surprising synergy in the answer.
Last year we partnered with Real World Living, a disability support service in Tāmaki Makaurau, to host some of their clients for work experience, dismantling child car seats as part of our SeatSmart programme.
The relationship also saw them tap into the paint and packaging take back programmes we run. This meant they were able to find some excellent uses for recycled paint in their impressive workshop.
Programme co-ordinator Jackie Turvey recently spoke to the 3R team about their work and gave us a virtual tour of their building, including the workshop. Little libraries, dog bowl holders, toys and furniture were in various stages of progress.
The workshop is a space for their more hands-on clients to tinker and create some impressive and useful items. The donated paint is used on some of the things they make – a far better outcome than going to landfill.
The little libraries, for example, are used in the local community for book swaps, Jackie says,
Real World Living works to give their clients opportunities to experience the world to the fullest –getting them out and about in the community or trying their hand at jobs in local businesses, playing sport, trying computer courses, expressive dance or art.
"While they are at school, they have lots of things they can link into and do, but when they leave there are only a few organisations like us. We give them activities to do, life skills and real-life experiences.
"They need those real-life experiences and to learn practical skills, routines and abilities which could eventually be used in future," Jackie says. "If they do become work ready there are other organisations they can go to like Polyemp which help them find jobs and help fund them into work."
Real World Living has been operating since 2014 and caters for everyone from clients in wheelchairs to those with learning disabilities and ACC clients too. "We've really grown," says Jackie. "My programme for high needs clients has gone up to 46 on some days."
We're looking forward to working with them further in the near future. If you think your business or organisation can get involved check them out.