SeatSmart expands into Canterbury with seven new sites
By Kiri Speirs on February 1st, 2018 in
Automotive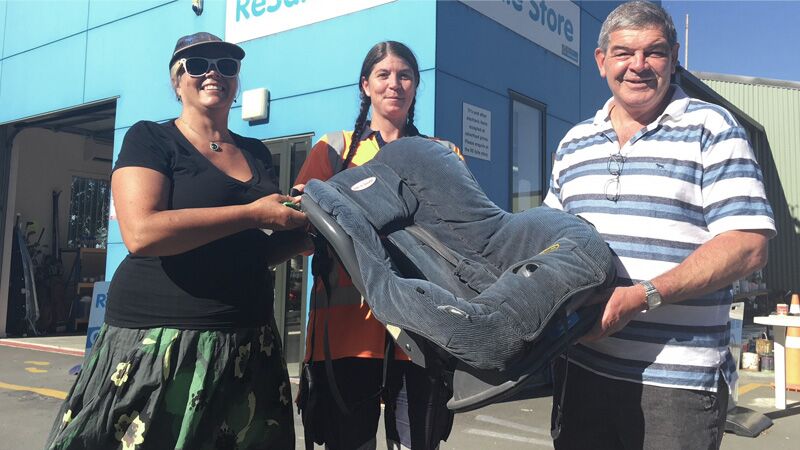 People in Canterbury have even more options for recycling child car seats as seven new sites become available in the region.
SeatSmart partnered with the Waimakariri and Hurunui district councils to introduce the new drop-off sites, which sees the total number in New Zealand grow to 29 in eight regions. Four sites are also due to be available in Timaru soon.
The new Canterbury sites will be located at transfer stations and resource recovery parks in Amberley, Cheviot, Hanmer Springs, Waiau, Culverden, Rangiora and Oxford. These add to the two currently in Christchurch and one in Rolleston, and make Canterbury the region with the most sites for child car seat recycling.
Programme manager Toni Bye says it is great to see Canterbury taking the lead on child car seat recycling. "People generally send their old seats to the landfill, which is a waste of resources, or give them away which could unnecessarily put a child at risk. Many people aren't aware that car seats have a limited life span of six to 10 years."
Hurunui Deputy Mayor Marie Black, who has worked across the Hurunui and Waimakariri districts for the past 25 years, says the programme has her full endorsement.
"It is paramount that old and expired infant and child car restraints are placed out of circulation and through this scheme will be repurposed and diverted from landfill."
Waimakariri District Council Councillor Robbie Brine says the council can receive expired and damaged child car seats for recycling, thanks to funding from the Canterbury Waste Joint Committee.
"We'll be charging $5 per seat because the cost of recycling them will be partially subsidised out of the Road Safety and Waste Minimisation budgets. By helping people to recycle their old child car seats we can improve child safety, and could save around 490 expired seats from going to landfill every year."
SeatSmart was launched nationally in April 2016 and has collected over 6000 seats.
Seats can be dropped off in the Hurunui district from February 1 at the Amberley, Culverden, Hanmer Springs, Waiau and Cheviot transfer stations. In the Waimakariri District seats can be dropped off from February 1 at the Oxford Transfer Station and Southbrook Resource Recovery Park in Rangiora.
There is a $5 recycling fee, reduced from $10 RRP thanks to subsidies from the Hurunui District Council and the Waimakariri District Council.
Drop off sites in Timaru are not yet accepting seats but will be soon. They will also carry a recycling fee of $5, thanks to a subsidy from the Timaru District Council.
Read the story the North Canterbury News wrote.