Trial aims to kick car bumper waste to the curb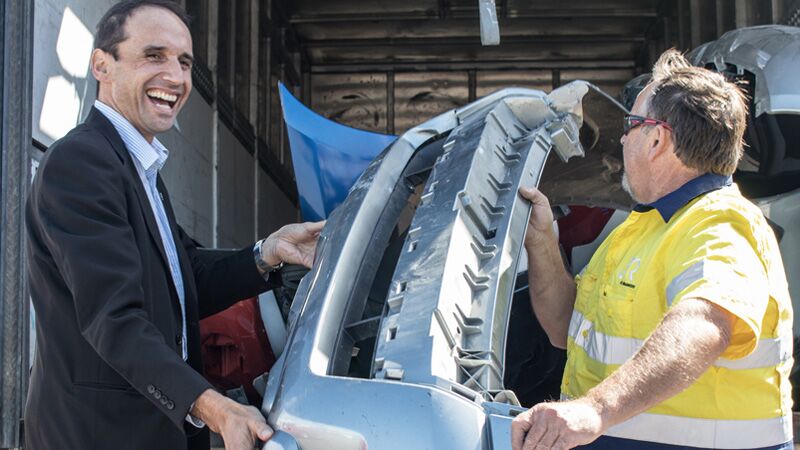 The practice of sending hundreds of thousands of car bumpers to the dump may become a thing of the past in New Zealand, with work underway to start a recycling programme.
3R began a car bumper collection trial in Christchurch this month with the aim of creating an ongoing recycling programme. For the trial they joined forces with the Motor Trade Association (MTA), with six MTA-affiliated collision repair workshops in Christchurch taking part.
The majority of bumpers found on passenger vehicles in New Zealand are made of the recyclable plastic polypropylene (PP), the same material used to make a myriad of everyday items like clothing pegs, chairs and food containers. In 2016 more than 77,000 bumpers were imported to replace damaged units, while around a further 142,500 cars were taken off the road the same year.
However, none of the approximately 1,400 tonnes – the weight of 1,300 Toyota Corollas – of plastic bumpers are currently recycled. Instead they are stock piled or sent to landfill.
3R Group operations manager Trevor Tutt says bumpers are a component which represent a reusable resource, which is not currently recycled. "New Zealand has one of the highest rates of car ownership per capita in the world. Bumpers are also very bulky, meaning they take up a lot of room in landfills and are a wasted resource," he says.
The trial, which saw 140 bumpers collected on the first day, will give 3R the material needed to conduct tests to determine the best method for recycling. Options being looked at include granulating the bumpers and using the material as an additive in other products or as an aggregate in concrete, Trevor says.
MTA Chief Executive Craig Pomare says their members are keen to find a solution. "Like many other New Zealanders – we don't like waste and we want to do our best to reduce our impact on the environment.
"Car bumper are a giant headache for our industry. Tens of thousands of damaged bumpers are sent off to landfills around the country each year or stacked up in yards and paddocks. We are delighted that there is a chance to start recycling and re-using them and MTA fully supports 3R's trial."
Internationally, car bumper recycling is common practice. This is especially so in countries with product stewardship legislation for end of life vehicles, stricter landfill controls and higher landfill costs.
Reports show the plastic recovered from car bumpers is high quality, can substitute virgin resin and be used in the manufacture of new automotive parts and even new bumpers, therefore closing the loop.
Internationally both Toyota, Ford and Mazda now use polymers from recycled car bumpers in the manufacture of new bumpers and other automotive parts. The lack of automotive manufacturers in New Zealand mean this is not an option, and finding local outlets for the bumpers will be a focus of the trail.
Read the story that appeared on Stuff.co.nz.