Electric future for waste collection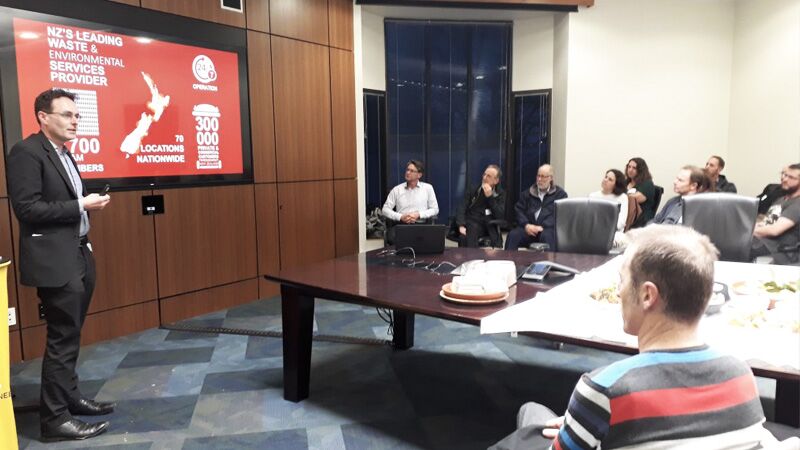 Featured speaker at SBN / 3R Business Connector event in September.
Making the switch to electric vehicles isn't just a 'nice to do' for one of New Zealand's biggest companies, it makes good business sense too.
Waste Management's Sustainability Manager Adam Weller shared what the company is doing in the electric vehicle space by moving their huge fleet from petrol and diesel to electric power. "We are a really big company so that means we can make a really big difference too," Adam says.
The company currently has a fleet of some 800 trucks and 200 light vehicles. Moving the light vehicles to EVs is as simple as making the change when the fleet leases are renewed, says Adam. Changing the trucks is a different, more involved story.
"There were no electric trucks available to purchase from manufacturers, so we decided to convert diesel models. We spent some time looking for a partner to work with and eventually found a company in Holland called EMOSS which could do our initial conversions," he says. The first truck was sent over in 2016, with 4 more following that.
Shipping their entire truck fleet to Holland for conversion isn't viable, but EMOSS is now providing kitsets for each type of truck they convert. As a result, Waste Management have built an EV Innovation Hub where they now convert locally.
"A lot of our trucks are modified anyway, so doing a conversion is just another step in the process," Adam says. "Any other companies that want to convert their trucks can come and talk to us too."
The company currently has 6 converted trucks, 1 of which they did themselves, with 5 more kits on the way and plans to convert another 20 trucks next year, Adam says. "The five we have sent for conversion cover a lot of what we have in the fleet."
The potential savings are significant in terms of both the running cost and emissions, with each electric truck saving the company 125 litres of diesel per day. If the entire fleet were electric that would equate to 100,000 litres a day, he says.
"The drivers also love them – particularly the torque which electric motors put out. They are also quiet, so you don't get residents upset by a noisy truck early in the morning. That is of course over and above the benefits of no diesel exhaust fumes."
Using electricity to power the trucks makes further sense when one considers that the company generates its own power by capturing the methane emitted from its landfills, Adam says.
"For example, for a sideloader truck – the one which picks up your wheelie bin in front of your house – collects waste from approximately 1200 homes in one day. This fills a 16-tonne truck, which in landfill generates 6000kWh of electricity, which can power an electric truck and 275 homes for a day."
The company has also signed on to the Climate Leaders Coalition, committing it to measure its greenhouse gas emission and publicly report on them, set a public emissions reduction target consistent with keeping within 20 of warming and work with their suppliers to reduce their GHG emissions.
"It's a pretty exciting thing to be part of. It's a big commitment, but one worth doing," Adam says.