Are we about to see NZ's turning point in the war on waste?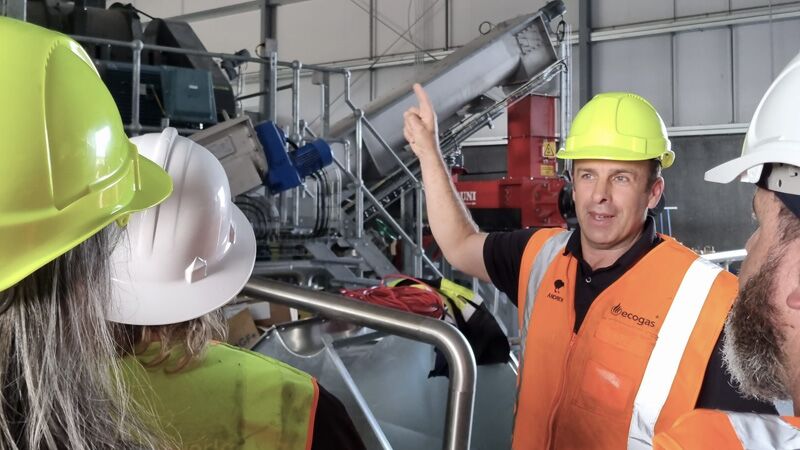 EcoGas Business Development Manager & Director Andrew Fisher shows the 3R team around the Rotorua site.
New Zealand's resource recovery landscape is set to change – to be transformed, a recently closed Government's consultation suggests. Whether this change will reach its full potential is yet to be seen. As always, the devil is in the detail – but we are optimistic.
The Ministry for the Environment's Transforming Recycling consultation document is a major shakeup, perhaps the biggest we've seen, in the way New Zealand deals with its recycling and food waste. It sets out three core proposals – the standardisation of kerbside recycling, a beverage container return scheme, and separation of business food waste.
Getting kerbside recycling right is the foundation for transformation
While all three proposals have important goals for reducing waste, tackling climate change and moving to a circular economy, we see the standardisation of kerbside recycling as potentially the most impactful.
Kerbside recycling is, in our view, the country's largest and most effective resource recovery scheme. It has some three decades of investment and is easily accessible by the vast majority of New Zealanders.
Critically, it encourages positive behaviour change, with millions of New Zealanders already being accustomed to using it on a regular basis. It's largely simple and easy system to use, so millions of people do.
But kerbside recycling suffers a substantial flaw in that it's operated in different ways by different councils, collecting different sets of recyclables across the country. The result is confusion, loss of recyclables to landfill and sometimes even a negative perception of recycling among the public.
That's why we're fully supportive of standardising the types of material collected, and making sure glass and paper are collected separately, following best practice to reduce contamination of recyclables. Going a step further, we believe by leveraging the kerbside recycling system through regulation and investment we can achieve even greater resource recovery.
Overseas we are increasingly seeing kerbside collection of packaging materials being funded by industry in an extended producer responsibility model. That's what's known as product stewardship here in Aotearoa New Zealand.
We can also look to overseas to see the opportunity to collect materials other than glass, plastic, metal and fibre at kerbside. For example, in Cheltenham in the UK, a kerbside clothing collection has been put in place with charity partners.
Couple this with investment in end markets and we could see the scope of what is collected at kerbside expanded to any number of other recyclable or reusable materials and products.
All aboard for a container return scheme?
The principle that the cost of recovering a product should lie with the producers, importers, and retailers, rather than with local government and ratepayers is at the core of what we do in designing product stewardship schemes.
It's also been proven to make brand owners more conscious of the impact their products and packaging are having at end of life and work to minimise it.
On the other hand, it's important for consumers to understand that any scheme comes at a cost and that at least some of those costs will be passed through to them in increased prices.
We have many years of experience co-designing product stewardship schemes and have found getting industry and community stakholders on board early to explore a variety of options is crucial to designing a cost-effective solution which will have the best outcomes for New Zealand businesses and consumers.
Working backwards from a pre-determined solution risks not adequately addressing key issues and barriers. That will in turn risk it not achieving the desired outcomes.
As noted in a recent report from Deloitte "Government and the public service are not always best positioned to pull the right levers, or do not always have the capability that is needed. Business and community partners also play a key role in co-creating new narratives and shifting mindsets through public discussion and influence."
Food waste isn't waste when it goes to the right places
Food can have the perfect circular solution – when it doesn't go into landfill – and New Zealand can certainly be doing better on this front.
The consultation document estimates more than 300,000 tonnes of food waste ends up in landfills every year, contributing 22 per cent of New Zealand's total emissions from class 1 landfills.
Besides a proposal to get food scraps and garden waste out of household bins destined for landfill, the consultation proposed mandatory separation of food waste by businesses. We support both of these proposals, with a couple of caveats. One is that food producing businesses should be targeted ahead of other businesses, and the other is the need to develop infrastructure alongside these changes.
Our team recently visited one such piece of infrastructure, a plant run by Ecogas (pictured above), that will take all of Auckland's food scraps, as well as food manufacturing waste. It will turn this into gas for the national grid, fertiliser and compost to grow more food and CO2 that is used in growing hothouse crops.
All of the proposed changes will bring the need for behaviour change from New Zealanders. We'd love to see a unified nationwide behaviour change campaign rolled out that speaks to all New Zealanders about our shared aspirations for the future.