Palmy residents lighten their chemical load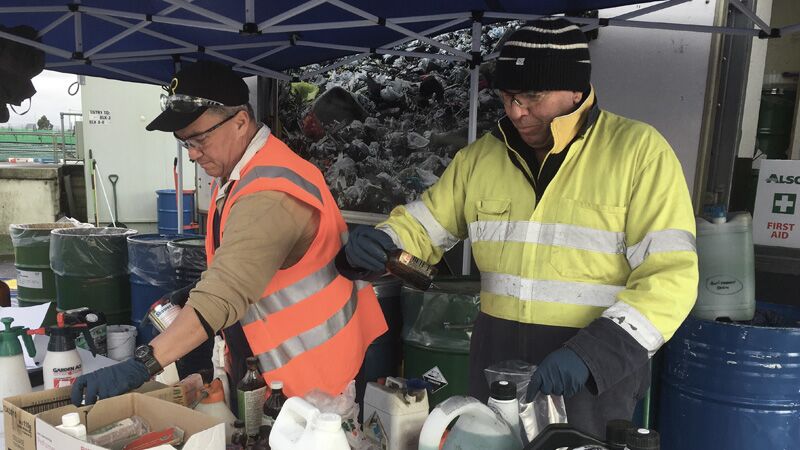 Over a tonne of dangerous chemicals have been collected from Palmerston North residents at a free disposal day.
The council-funded MyHazWaste event, run by chemical collection experts 3R Group through their ChemCollect service, saw close to 200 bookings and resulted in 1023kg of materials collected.
ChemCollect Manager, Jason Richards, says this is up around 200kg on the same event held in the city in 2018.
"We're really happy with how the day went. The weather didn't play ball, but we still got a good turnout and over a tonne of chemicals were safely collected for proper disposal," he says.
The number of people attending was also significantly up on 2018, with over 100 more bookings. "There is a huge amount of unwanted, expired and even some banned chemicals tucked away in sheds and garages," Jason says.
This year the event also allowed for the disposal of batteries and motor oil which the Palmerston North City Council collected. According to the council just under two tonnes of motor oil was brought in as well as 25 car batteries and an assortment of household batteries.
Council Chief Infrastructure Officer, Tom Williams, says the outcome is no surprise, with Palmy residents being very environmentally aware.
"Palmerston North is committed to reducing its ecological footprint as part of our eco-city vision. This drop off day complements a range of other initiatives we have including car seat recycling, and battery, e-waste and motor oil collection to help our residents recycle as much as possible," he says.
A large variety of chemicals were handed in, Jason says, ranging from acids to household and garden chemicals and even a few which are now banned in New Zealand, such as a few small containers of the highly toxic herbicide paraquat.
"Sometimes people aren't even aware of what they have and the danger it poses. They may have inherited a property and found chemicals which were stored away decades ago, which is why events like these are important," he says.
Bookings for the event were managed via the MyHazWaste website which doubled as an educational tool promoting where to take other materials which already have effective disposal or recycling options in the city, he says.